RTJ GOLF TRAIL AT ROSS BRIDGE
April 3 Operations Update
Pursuant to Governor Ivey's shelter-in-place order on April 3, all 11 facilities on Alabama's Robert Trent Jones Golf Trail remain open for play.

We continue to follow all COVID-19 protocols to ensure appropriate social distancing, including one person per cart and a ban on removing flagsticks while putting. Our pledge to you is that all Trail sanitation procedures meet or exceed current CDC guidelines. In addition to the statewide restrictions to take-out only on all food & beverage purchases, we have modified operations at Oxmoor Valley and Ross Bridge. Both clubhouses will remain closed and golfers will check in and may purchase food & beverage from the beverage cart or from a limited menu on the respective verandas. The Short Course and practice facility at Oxmoor Valley remain closed at this time.

Tee times may also be limited at certain times throughout The Trail in order that we may best serve you and maintain the safest environment possible. Thank you for your patience and understanding during this challenging time.
Beautifully carved into the rolling terrain of Shannon Valley, Ross Bridge will challenge even the best golfers. The course meanders through indigenous landscape and around the 259-room Renaissance Ross Bridge Golf Resort & Spa.

Ross Bridge is one of the longest courses in the world but offers multiple tees for golfers of all levels. The beauty and challenge of each hole leads many to believe there is not one signature hole but possibly eighteen.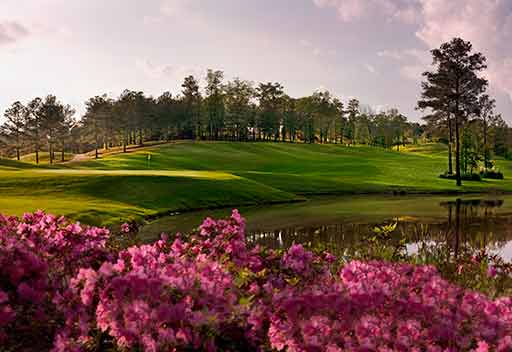 Course Tour
Symbolic of an old parkland style golf course, ten holes play along the banks of two significant lakes connected by a spectacular waterfall dropping 80 feet between the ninth and eighteenth greens.

Like many other Trail courses, the par three holes are incredible. Considerable elevation change combines with water or other natural obstructions to get your attention. Large putting surfaces provide many tempting pin locations that will test golfers' approach shots.
THE RESORT COLLECTION ON THE RTJ GOLF TRAIL
Nestled among a quintessential American resort town, the Ross Bridge Resort embodies comfortable sophistication and the casual elegance of a royal retreat.
1-888-236-2427 or 205-916-7677
OTHER LODGING OPTIONS
EVENT REQUEST
Relax...coordinating an event at Ross Bridge is much easier than you think! Our staff has experience planning golf events that range from as small as a 16 player group outing to as large as a 120 player corporate tournament, as well as everything in between. With the array of other options we can also provide, including food & beverage, contests, and scoring, our staff has what it takes to make your golfing experience match all your expectations.

Please submit the form below and a member of our staff will contact you.


MAINTENANCE SCHEDULE
Maintenance practices are weather dependent; changes may occur last minute as a result. Understand we will make every effort to follow the schedule presented. Please contact the golf shop to inquire relative to any adjustments.

The driving range will be closed for at least part of the day each Tuesday.
2020
Date
Course
Activity
Recovery
June 1-4
Ross Bridge
Tees/fairways/greens aerification
None
August 31-September 1
Ross Bridge
Greens aerification
None
November 9-13
Ross Bridge
Greens aerification
Overseed tees/fairways
10 days
No Cart Path Restrictions
2021
Date
Course
Activity
Recovery
February 1-5
Ross Bridge
Greens aerification
7 days
May 31-June 2
Ross Bridge
Tees/fairways/greens aerification
2 Days
August 30-September 1
Ross Bridge
Greens aerification
None
November 8-12
Ross Bridge
Greens aerification
Overseed tees/fairways
7 days
No Cart Path Restrictions
Location
Hoover
4000 Grand Avenue

Hoover, AL 35226

205-949-3085

Prices from $120 plus tax

Printable scorecards

Book a tee time