RTJ GOLF TRAIL AT OXMOOR VALLEY
BIRMINGHAM | 54 HOLES
Centrally located in the state and just minutes from the newly revitalized downtown Birmingham area, the 54-hole Oxmoor Valley facility was built on former mining land owned by U.S. Steel. Sculpted from the peaks and valleys of the Appalachians, the courses offer scenic forests, numerous creeks, and challenging elevation changes.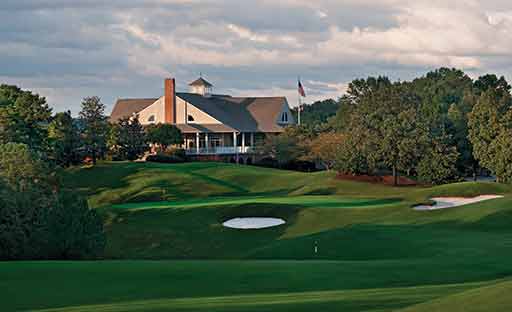 RIDGE
Course Tour
The Ridge course offers numerous elevation changes, heavy tree cover, and is incredibly photogenic. As a tribute to the area's mining past, the green at the par-5 3rd hole is buttressed by a shelf of exposed shale rock.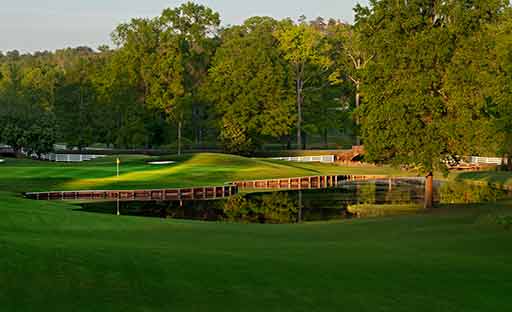 VALLEY
Course Tour
Completely renovated in 2021, the Valley course features new tees, bunkers, and beautiful TifEagle greens. For those who have played the Valley in the past, there are also a few new surprises with complete redesigns on a few holes, including the previously notorious 18th hole.
SHORT COURSE
The Short Course at Oxmoor Valley is a delightful collection of 18 pure one-shotters. It is listed by Golf Digest's "Places to Play" as one of the nation's Great Value courses in the public category.
THE RESORT COLLECTION ON THE RTJ GOLF TRAIL
Nestled among a quintessential American resort town, the Ross Bridge Resort embodies comfortable sophistication and the casual elegance of a royal retreat.
1-888-236-2427 or 205-916-7677
OTHER LODGING OPTIONS
EVENT REQUEST
Relax...coordinating an event at Oxmoor Valley is much easier than you think! Our staff has experience planning golf events that range from as small as a 16 player group outing to as large as a 300+ player corporate tournament, as well as everything in between. With the array of other options we can also provide, including food & beverage, contests, and scoring, our staff has what it takes to make your golfing experience match all your expectations.

But just because we are a golf course does not mean that is all that we do! We are also available for non-golf related functions, including weddings and receptions, parties, reunions, wedding/baby showers, corporate meetings...the possibilities are endless! Let us cater your event to meet your exact needs as you sit back and enjoy the beautiful landscape surrounding you and your guests.

Please submit the form below and a member of our staff will contact you.


MAINTENANCE SCHEDULE
Maintenance practices are weather dependent; changes may occur last minute as a result. Understand we will make every effort to follow the schedule presented. Please contact the golf shop to inquire relative to any adjustments.

The driving range will be closed for at least part of the day each Tuesday.
2022
Date
Course
Activity
Recovery
January 1-TBD
Short Course
Closed for Renovation
Course closed
August 1, 15, 22, 29
Ridge
Closed for maintenance
None
August 8-10
Valley
Greens aerification
10 days
September 26-28
Ridge
Greens venting
Overseed tees/fairways
None
No Cart Path Restrictions
October 3-4
Valley
Overseed tees/fairways
Open with overseeding around play
November 7-9
Ridge
Greens aerification
10 days
2023
Date
Course
Activity
Recovery
February 21-24
Ridge
Greens aerification
14 days
May 8-10
Short
Greens aerification
10-14 days
May 30-June 2
Valley
Greens aerification
10-14 days
June 5-7
Ridge
Greens venting
None
June 12, 20, 26
Ridge
Closed for maintenance
None
June 13, 19, 27
Valley
Closed for maintenance
None
July 5, 10, 18, 24, 31
Ridge
Closed for maintenance
None
July 3, 11, 17, 25
Valley
Closed for maintenance
None
July 31-August 2
Short
Greens aerification
10-14 days
August 7-10
Valley
Greens aerification
10-14 days
August 14, 21, 28
Ridge
Closed for maintenance
None
September 25-27
Ridge
Greens venting
None
October 2-5
Ridge & Valley
Overseed tees/fairways
Open with overseeding around play
November 6-9
Ridge
Greens aerification
14 days
Location
Birmingham
Book a tee time

100 SunBelt Parkway

Birmingham, AL 35211

205-942-1177

Prices from $65 plus tax

Printable scorecards