FATHER/SON CHAMPIONSHIP
The 25th Annual Father/Son was another great event. The temperatures were great and we had fantastic golf course conditions. The states represented this year were Alabama, Arkansas, Florida, Georgia, Louisiana, Mississippi, Oregon, South Carolina, California, Illinois, Tennessee, and Texas. The golf courses were in great shape once again. Hats off to our entire maintenance staff for the hard work they put in to getting the golf courses ready for tournament play.

The winning team for 2023 were past champions Hamp & Billy Andrews from Huntsville (Billy) & Spanish Fort (Hamp), Alabama. They shot 60-60 for a 2-day total of 120, winning the 2023 championship by two strokes. Congratulations to team Andrews for two great rounds and winning the 25th annual Father/Son Championship. A big thanks to all participants for making the 2023 Father/Son a wonderful event and we look forward to seeing everyone next year. The registration for the 2024 championship will open on March 1st, 2024, so mark your calendars and get in early to reserve your spot.

For more information on the upcoming 2024 Father/Son Championship, contact Bryan Reynolds, 334-382-9787 or breynolds@rtjgolf.com.
2023 WINNERS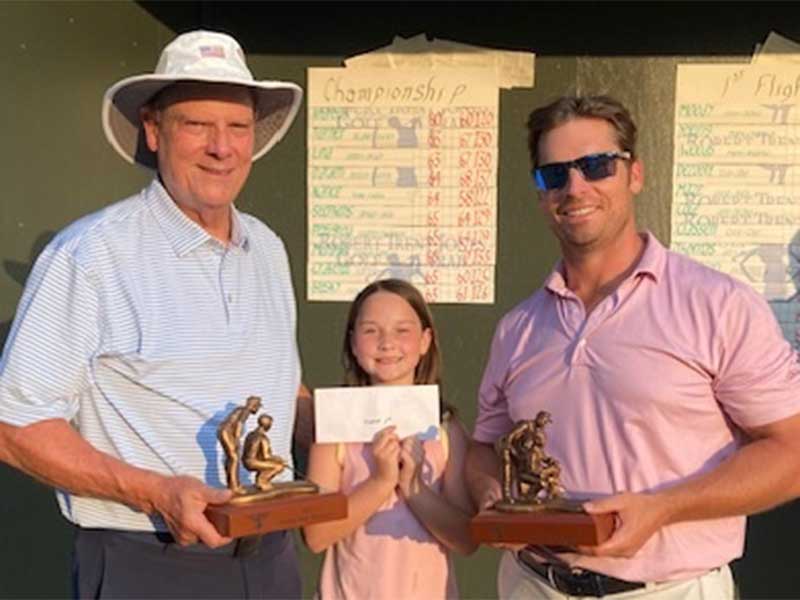 Hamp & Billy Andrews - 2023 Father/Son Champions
Championship Flight
1st - Hamp & Billy Andrews
2nd - Mike & Nash Nance
3rd - Forrest & Parker Crabtree
4th - Michael & Brendan Busky
First Flight
1st - Todd & Jake Dezoort
2nd - Lynn & David Mooney
3rd - David & John Wiggins
4th - Gary & Cory Alshouse
Second Flight
1st - Jay & Grant Carter
2nd - Jeff & Joe Equi
3rd - Bob & Wesley Rogers
4th - Roger Sr. & Roger Jr. Myers
Third Flight
1st - Michael & Shane Hodge
2nd - Jim & Jake Hipple
3rd - Thomas & Erik Youngdahl
4th - Paul & Sam Garner

Fourth Flight
1st - Derek & Lynn Bonner
2nd - Todd & John Lee
3rd - John & J Payne
4th - David Hartselle & Chris Fowler
5th - Rhett & Cory McSween
Fifth Flight
1st - Max & Chris Bonner
2nd - Levi & Sawyer Rentz
3rd - Sean Herman & Matt Vann
4th - Greg & Clarence Hodge
Sixth Flight
1st - Parker & Roger Adams
2nd - Ray Fallaria & Ryam Umipeg
3rd - Thomas & Brett Wright
4th -Tim & Connor English
Seventh Flight
1st - Fred & Bryan Weaver
2nd - Tanner & Randy Sims
3rd - Tamir & Ty Levy