FATHER/SON CHAMPIONSHIP
The 24th Annual Father/Son was another great event. The rain held off the and temperatures were mild, with great golf course conditions. The states represented this year were Alabama, Arkansas, Florida, Georgia, Louisiana, Mississippi, Oregon, South Carolina, California, Illinois, Tennessee and Texas. The golf courses were in great shape, hats off to our entire maintenance staff for the hard work they put in to get the courses ready for play.

The winning team for 2022 were past champions Mike & Nash Nance from Calhoun, Georgia. They shot 58-60 for a 2-day total of 118, winning the 2022 championship by 4 strokes. Congratulations to team Nacne for two great rounds and winning the 24th annual Father/Son Championship. A big thanks to all participants for making the 2022 Father/Son a wonderful event and we look forward to seeing everyone next year. The registration for the 2023 championship will open on March 1st, 2023, so get in early to reserve you spot.

For more information on the upcoming 2023 Father/Son Championship, contact Bryan Reynolds, 334-382-9787 or breynolds@rtjgolf.com.
2022 WINNERS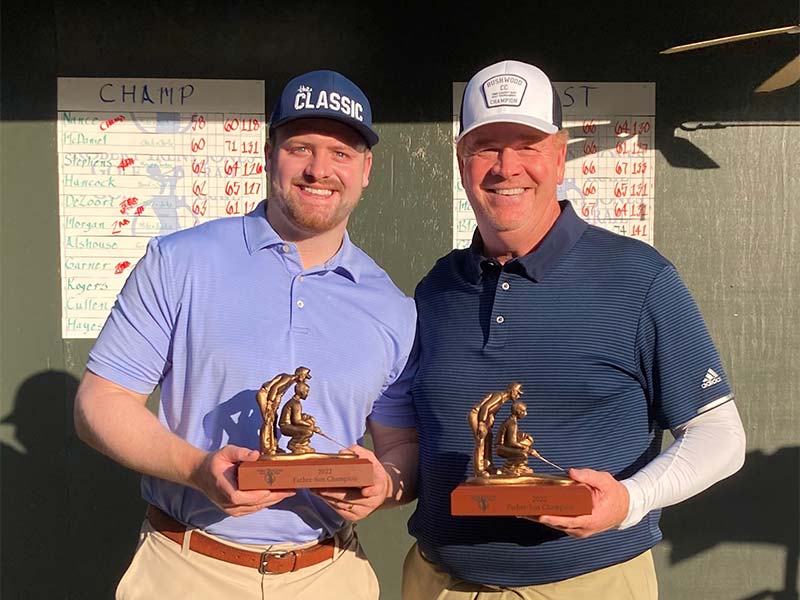 Mike & Nash Nance - 2022 Father/Son Champions
Championship Flight
1st - Mike & Nash Nance
2nd - Mike & Austin Morgan
3rd - Darren & Will Garner
4th - Todd & Jake Dezoort
First Flight
1st - Ryan Davis & Stan Cowling
2nd - Paul & Sam Garner
3rd - Blake & Dicky Turner
4th - Lynn & David Moody
5th - Chester & Troy Gray
Second Flight
1st - Greg & John Stack
2nd - Bruce & Mac Hagan
3rd - Jay & Grant Carter
4th - Richard & Hunter Hardy
5th - Calvin & Michael Dixon
6th - Jay & Michael Thomas
Third Flight
1st - Michael & Shane Hodge
2nd - Curt & Chris Endicott
3rd - Todd & John Lee
4th - Dusty & Chandler Holloway

Fourth Flight
1st - Andrew & Gaaron Blanchard
2nd - Thomas & Erik Youngdahl
3rd - Cory & Rhett McSween
4th - Dale & Robert Shoupe
5th - Al & Albert Quiroga
Fifth Flight
1st - Robert & Trevor O'Day
2nd - Barry & Scott Clayton
3rd - Derek & Lynn Bonner
4th - Gary & Bryan Cooper
Sixth Flight
1st - Ben & Norris Sexton
2nd - Jarrod & Hollis Weems
3rd - Nathan & Griffin Wallace
4th -Tom & Craig Roberts
Tournament Contact
Bryan Reynolds
RTJ Golf Trail at Cambrian Ridge
334-382-9787
breynolds@rtjgolf.com
Registration will open March 1.