RTJ GOLF TRAIL AT CAMBRIAN RIDGE
Known by avid golfers as one of the most beautiful and most challenging stops on the Trail, Cambrian Ridge in Greenville lies just 40 miles from Montgomery. It is well worth the ride for any golfer looking for 36 holes of jaw-dropping golf.

The Sherling/Canyon combination was named by Golf Digest as the 3rd best new public course in America when it opened and 13th in their list of America's Top 50 Affordable Courses. This combination was also named by Golf Digest's "Places to Play" as one of the nation's 40 Super Value courses.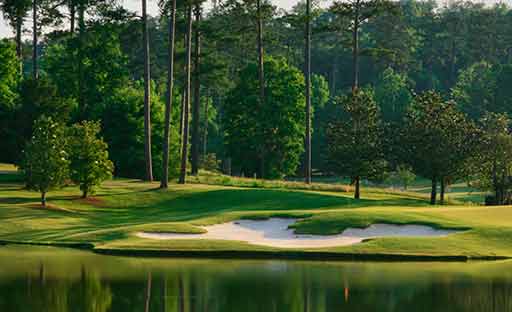 CANYON
Course Tour
The Canyon nine, carved from former hunting grounds where deer blinds remain nailed to the hardwood, is a thrilling stretch of target-style golf.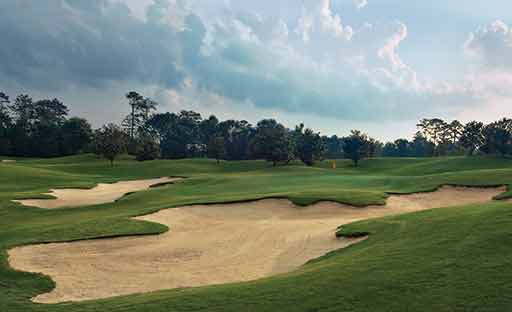 LOBLOLLY
Course Tour
The Loblolly nine, with its gently rolling fairways, massive bunkers, cathedral-like pines and water-fronted greens, exudes a stately, Augusta-like quality.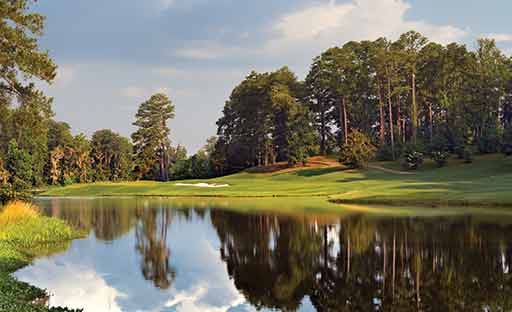 SHERLING
Course Tour
The Sherling nine starts at the highest point in Butler county and drops to play along Sherling Lake before culminating with a dramatic climb on the final hole.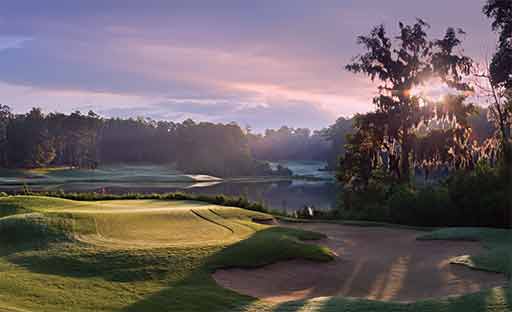 SHORT COURSE
The nine-hole Short Course is a marvelous collection of holes laid out beautifully between a ridge and Sherling Lake, where water comes in to play on five holes.
EVENT REQUEST
Relax...coordinating an event at Cambrian Ridge is much easier than you think! Our staff has experience planning golf events that range from as small as a 16 player group outing to as large as a 300+ player corporate tournament, as well as everything in between. With the array of other options we can also provide, including food & beverage, contests, and scoring, our staff has what it takes to make your golfing experience match all your expectations.

But just because we are a golf course does not mean that is all that we do! We are also available for non-golf related functions, including weddings and receptions, parties, reunions, wedding/baby showers, corporate meetings...the possibilities are endless! Let us cater your event to meet your exact needs as you sit back and enjoy the beautiful landscape surrounding you and your guests.

Please submit the form below and a member of our staff will contact you.


MAINTENANCE SCHEDULE
Maintenance practices are weather dependent; changes may occur last minute as a result. Understand we will make every effort to follow the schedule presented. Please contact the golf shop to inquire relative to any adjustments.

The driving range will be closed for at least part of the day each Tuesday.
2022
Date
Course
Activity
Recovery
March 14-15
Sherling
Greens aerification
2 days
March 16-17
Canyon
Greens aerification
2 days
March 21-22
Loblolly
Greens aerification
2 days
March 23-24
Short Course
Greens aerification
2 days
May 31-June 12
Sherling
Tess/greens aerification
14 days
June 13-26
Canyon
Tess/greens aerification
14 days
June 27-July 10
Loblolly
Tess/greens aerification
14 days
July 11-24
Short Course
Tess/greens aerification
14 days
August 1-5
Sherling
Greens aerification
5 days
August 8-12
Canyon
Greens aerification
5 days
August 15-19
Loblolly
Greens aerification
5 days
August 22-26
Short Course
Greens aerification
5 days
October 24-25
Sherling
Overseed tees, fairways and greens
2 days
October 31-November 1
Loblolly
Overseed tees, fairways and greens
2 days
Location
Greenville
Book a tee time

101 SunBelt Parkway

Greenville, AL 36037

334-382-9787

Prices from $65 plus tax

Printable scorecards